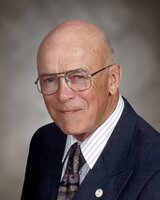 Maynard Eldon Mercer
It is with sadness that the family of Maynard Eldon Mercer, age 88, announces his death which occurred on Monday, May 16, 2022 at Kiwanis Nursing Home. He was born on December 16, 1933, in Ratter's Corner, NB, a son of the late Eldon and Mary (McLong) Mercer.
Maynard started working at Sheers Hosiery in Sussex, then moved over into auto body work starting at J. Clark & Sons, where he got his Auto Body Licence in 1967. A little later he became employed with the Department of Transportation and stayed there until his retirement.
He was a man who loved to work. Everything was always not so much a job but was everything he enjoyed. He put his heart and soul into everything he done and would never be finished unless it was totally satisfactory.
Maynard loved his Toronto Maple Leaf's and Blue Jays.
He is survived by his loving wife of 65 years, Adelia (Coates) Mercer; son Randy Mercer (Amber Parlee) of Berwick, NB; daughter Beth Ann Mercer (Shawn Lester) of Plumweseep, NB; sister Pauline (Walter) Parlee; granddaughter Tabitha Mercer; step-grandchildren: Amanda, Samantha, Sage, Colter, Aston, Michael; great-grandchildren: Skylar, Alayna, Nathan; his special dog Goliath; along with several nieces and nephews. Besides his parents, he is also predeceased by his daughter-in-law Tammy Mercer; brother Eric Mercer and sister Ruby Mercer.
Arrangements have been entrusted to the care of Wallace Funeral Home, 34 Sunnyside Drive, Sussex, (506-433-1176) from where visitation will be held on Thursday, May 19, 2022 from 3 to 5 and 7 to 9pm. Funeral Service will be held from Wallace Community Chapel on Friday, May 20, 2022 at 2:00pm.
If you are considering making a memorial donation the family has recommended the Alzheimer's Society or to the charity of the donor's choice. Condolences to the family and donations may be made through WallaceFuneralHome.com
The family wishes to thank the staff of Kiwanis Nursing Home for taking such good care of Maynard.