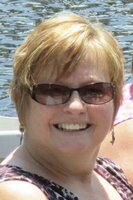 Minnie Joy McLeod
On Friday, September 9, 2022, a special angel was given her wings.
It is with great sadness we announce the passing of Minnie J. (White) McLeod, wife of Wayne McLeod, peacefully and surrounded by family at the Sussex Health Centre in Sussex, NB following a courageous battle with cancer.
Minnie was born in Noel Road, Nova Scotia on January 9, 1955, the fifth child of Kathleen and Somner (Tom) White. Following high school and completion of a business course, she worked for a number of years in Halifax. Minnie's caring personality then led her to working with children and their parents. She played an important part in starting the Building Blocks program in Kennetcook and took an active role in the program's delivery. She was also a leader in the Maitland Community School Project. In Truro, her nurturing traits led her into home care services. After moving to Sussex, Minnie began working at the Kings County Family Resource Centre where she worked with many families and formed long lasting friendships.
Besides her husband, Minnie is survived by her daughters: Nanci Bond and Liza Higgins; her grandchildren: Scotia, Mackenzie, Alex, and Emma; her stepchildren and step grandchildren; her sisters: Estelle (David) Brown, Cora (Glen) Martin, Grace (Gary) Beattie, Lona White (Kevin Tufts); as well as many nieces and nephews. Minnie was predeceased by her parents; sister: Jackie White; brother: Merlin White, and by her granddaughter Sophia.
The family would like to thank her team of medical staff for their support and kindness throughout her illness. Special thanks to 'her warriors' who kept Min in their thoughts and prayers. She appreciated each and everyone of you.
Arrangements have been entrusted to the care of Wallace Funeral Home, 34 Sunnyside Drive, Sussex, NB. A celebration of Minnie's life will be held on Saturday, September 24, 2022 from 2:00-4:00 pm at the Little White Hall in Noel Road (6936 Highway 354, Kennetcook N.S. B0N 1P0).
Donations in memory of Minnie may be made to the charity of your choice. Condolences to the family and donations may be made through WallaceFuneralHome.com