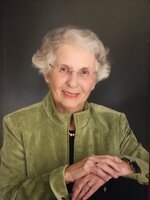 Minnie Evelyn Maguire
Maguire, Minnie Evelyn (Slater) passed away peacefully at the Sussex Health Centre with her family by her side November 15, 2022 at the age of 94.Born in Woodstock, NB on January 22, 1928, she was the daughter of the late Bessie (Dickinson) and John Slater.
She was predeceased by her husband, H. Ivan Maguire; her parents; her brothers: Wilber and Arthur Slater; and sisters: Elizabeth Slater, Jean Harding, Mary Ann Doherty, and Audrey Bartlett. Minnie was the last surviving member of her immediate family.
Minnie is survived by her sons John (Patricia) and Paul (Linda); sisters-in-law Connie Slater and Ardeth Maguire; her grandchildren: Michael (Marti), Peter (Victoria Arbour), David, Kimberley, Janet Daley (Brennan); and her great- grandchildren: Claire, Oswald, and Maeve.
A graduate of Saint John General Hospital School of Nursing class of 1949, she worked at The Kings County Memorial Hospital and in the offices of Dr Bryant and Dr Bartlett. Minnie was involved in many groups at her Church and in the community, including teaching First Aid, a member of the Sussex Hospital Board, Councillor, and Deputy Mayor of the Town of Sussex. Minnie enjoyed playing bridge and spending her summers in St. Andrews at the Kiwanis campground.
Arrangements have been entrusted to Wallace Funeral Home, 34 Sunnyside Drive, Sussex, NB (506-433-1176) from where a visitation will take place on Saturday, December 3, 2022 from 11am-12:30pm at the Wallace Community Chapel. A celebration of Minnie's life will follow, also from the Chapel, on Saturday at 12:30 pm, followed by a reception at the funeral home.
In lieu of flowers, donations in Minnie's name may be made to the Sussex and Area Community Foundation, St. Paul's United Church, Sussex, or a charity of your choice. Personal condolences to the family and donations may be made through wallacefuneralhome.com