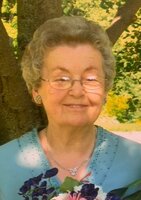 Phyllis Cunningham
Phyllis Jean Cunningham (Forsythe, Barton, Shay) passed away peacefully on November 21, 2022 at Primrose Cottage, Lower Millstream, NB. Phyllis, the daughter of the late Crandall and Mildred (Morrow) Forsythe was born in Waterford, NB in 1922 and celebrated her 100th birthday this year with family and friends.
As a young bride, Phyllis resided in Waterford with her husband, Leslie Barton, and together they owned and operated the village store. Later, they owned and operated a service station in Sussex until Les passed away as a young man. Phyllis later married Elmer Shay of Mount Pisgah and joined him on his family farm. She enjoyed a musical life with Elmer and his children and learned to play the keyboard so that she could join in the fun. She and Elmer traveled, particularly enjoying a trip to Australia. Elmer passed away after many years of a happy marriage together. Phyllis married Ernest Cunningham and they built a home in Sussex, NB. They spent their elder years together until his passing in 2018.
During the course of her long life, Phyllis enjoyed many years of working. She was a clerk at Eatons Order Office, the Metropolitan store, and at Lawton's Drug Mart. She was also an Avon representative. She was a member of the Waterford Orange Lodge and Trinity Anglican Church.
Phyllis is survived by her step-children Merlin Shay, Alfred (Gloria) Shay, Norman Shay, Glenna (Richard) Fanjoy, Hilda (late Wally) Krumrei, William (Orith) Cunningham, Jack (Pam) Cunningham, Ron (Eva) Cunningham and Nancy (late John) Adams, her sisters Kathleen Coone and Joyce Fanjoy, sister-in-law Dorothy Howell, several step-grandchildren and great grandchildren, and her nieces and nephews.
Besides her parents and spouses, Phyllis was pre-deceased by step-daughter Eleanor (Bob) Lavoie, siblings Thomas (Mary), Noreen, Douglas (Doris), Lawrence, and Allison (Beulah), and brothers-in-law Kenneth Coone and Carl Fanjoy.
The family would like to thank all of the caregivers at Primrose Cottage Special Care home for the comfort and security that surrounded Phyllis during the final years of her long life.
Funeral arrangements have been entrusted to the care of Wallace Funeral Home, Sussex, NB (506-433-1176) from where a visitation will take place from 4:30pm to 7pm on Wednesday, November 23, 2022. Relatives and friends are welcome to join the family at her funeral service at Trinity Anglican Church (853 Main St. Sussex, NB) on Thursday, November 24, 2022 at 11:00am.
In lieu of flowers, donations given to the St. John the Evangelist - Waterford Anglican Cemetery, St. John the Evangelist Church, Trinity Church – Sussex, or to the charity of the donor's choice would be appreciated by the family. Personal condolences to the family and donations may be made through wallacefuneralhome.com