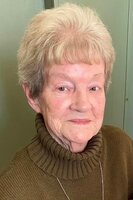 Pearl Beatrice "Cookie" Kyle
It is with heavy hearts that the family of Pearl Beatrice "Cookie" Kyle announce her passing at the Sussex Health Centre on November 22, 2022 at the age of 83.
Born in Saint John on October 13, 1939; she was the daughter of the late Robert and Patricia (Wordon) Cook.
She will live on in the hearts of her loving husband of 65 years, Reg Kyle; their children: Susan McLean of Roachville, Debbie Morrison (Dean) of Sussex and Lorne (Audrey) of NFLD; her siblings: Bobby Cook (Carolyn), Paul Cook (Dixie), Philip Cook (Ida), Sharon Brown (Lloyd), Heather Bennett and Judy Cook all of Saint John and Nora Goldsworthy (Stephen) of Midland; her grandchildren: Gary Kyle (Tamara Archambeault), Cindy Kendall (Francis), David McLean (Julie), Tammy Mercer (Charles), Mark McLean (Layka Shay), Robin Morrison (Keith Muir) and Mike Morrison; her great grandchildren: Chloe, Courtney, Bailey, Mia, David, Kayley (Josiah), Keaton, Abigail, Alexis, Kaiden, Addison, Sally, Ryan, Sierra, James and Isabella; her great great grandchild: Emersyn; as well as several nieces, nephews and extended family members.
Along with her parents, she is predeceased by her siblings: Jackie Cook, Deana Sproul (Albert) and Patricia Nice.
Arrangements have been entrusted to the compassionate care of Wallace Funeral Home, 34 Sunnyside Drive, Sussex (506-433-1176).
A Celebration of Bea's life will be held from Wallace Community Chapel on Tuesday, November 29, 2022 at 2:00pm. The interment will take place in Trinity Cemetery.
Donations in memory of Bea may be made to the donor's choice. Condolences to the family and donations may be made through WallaceFuneralHome.com