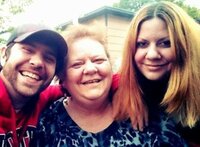 Linda Darlene Danielle Lutes
It is with great sorrow that the family of Linda D.D. Lutes of Norton, New Brunswick wishes to announce her death at the Saint John Regional Hospital on November 22, 2022.
Born January 11, 1963 in Saint John New Brunswick, she is survived by her husband, Michael; her children: JC (Jean) Talcott (Edward), Shaun Cormier (Rebecca), Andre Noftell; her grandchildren: Dominic, Kaiden , Ocean, and Caithan; her brothers and sisters: Rose, James, Brian, Madonna, and Margaret
While Linda had many friends, she felt blessed to have several with whom she had a lifelong bond and shared their lives.
She worked at several jobs when she was younger and was injured at work in 2004 and was disabled until her death.
Linda was very creative and was an extraordinary artist with a beautiful voice who loved to sing. Before becoming unable, Linda shared her talent whenever possible.
She loved her family, her dogs, driving and travelling, all shiny things, Chinese food, and she took great joy in finding bargains.
Arrangements have been entrusted to the care of Wallace Funeral Home, 34 Sunnyside Drive, Sussex, (506-433-1176). All arrangements will be held privately.
Those wishing to make memorial donations may do so to Mental Health Resources or to the charity of the donor's choice.