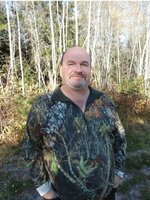 Leslie Tayes
It is with heavy hearts that the family of Leslie Earl Tayes announce his sudden passing on January 12, 2023 at the age of 57.
Born in Sussex on May 31, 1965; he was the son of the late Ronson and Phyllis (Mitchell) Tayes.
His love and memory will live on in the hearts of the love of his life, Melinda (Smith) Tayes; their children: Jessica Elliott and her husband David of Saint John; Melissa Estrada and Josh TooToo of Saint John, Elizabeth Tayes and Brandon Kennedy of Bloomfield and Samuel Tayes and Abigail Carten of Sussex; their adopted daughters: Melita Smith, Ariel Haley-Seneshen and Paul Miller, Misty Golden and Jeremy McKiel, Aileen MacLean and her husband Cody and Mir Allen and her husband Seth; his grandchildren: Sierra-Rose, William, Ally, Amaya, Enrique, Tyrel, Arianna, Lyla, Alexis, Seth, London, Jace, Ronson, James, Meadow, Fisher, Spring, Bently, Audrina, Camron, Jackson, Madilyn, Case, Cian, Addie, Rory and Lexi; his siblings: Larry Hutchings, Randy Tayes, Margaret Rideout and her husband Philip, Patsy Lockhart and her husband Hollis and Kelly Tayes and Howard Green; his mother-in-law, Betty Smith; his sisters-in-law: Rachel Hogan and her husband Jeremy and Donna Wood and her husband Phillip; his brothers-in-law: Clayton Smith, Henry Smith and his wife Amanda and Shane Smith and his wife Kendra; his nieces and nephews: Cassandra, Michael, Charlotte, Megan, Jackson, Dakota, Chelsy, Dustin, Savannah and Lily; as well as his fur babies: Maxxy and Lulu and many friends and extended family members.
Along with his parents, he is predeceased by his grandsons: Abel and Eric; his brother, Ronald Hutchings; his nephew, Patrick Somers; his father-in-law, Henry Smith and by his brother-in-law, Ralph Thorne
Arrangements have been entrusted to the compassionate care of Wallace Funeral Home, 34 Sunnyside Drive, Sussex, (506-433-1176) from where visitation will be held on Wednesday, January 18, 2023 from 1-3 and 6-8pm. A Celebration of Leslie's life will be held from Wallace Community Chapel on Thursday, January 19, 2023 at 11:00am.
Donations made to the Living Memorial would be appreciated by the family. Condolences to the family and donations may be made through WallaceFuneralHome.com