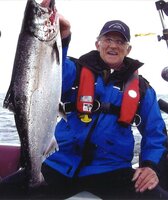 Francis Guptill
We are deeply saddened to announce the passing of Francis Samuel Guptill of Searsville, NB, which occurred on Tuesday, January 17, 2023 at Saint John Regional Hospital at the age of 83. He was born on February 15, 1939 in Grand Manan, NB, a son of the late Leonard and Ethelsa (Morse) Guptill and husband of Iris (MacDonald) Guptill.
He will be sadly missed by his wife of 63 years, Iris; his children: Kent (Deb) of Collingwood, ON, Dwayne (Juanita) of Lower Millstream, NB, Noreen of Wentworth, NS, Beth of Tatamagouche, NS; his grandchildren: Shane (Angie), Nathan, Tania (Brad), Saxon (Jack), Hailey, Brianna, Kaela; his great-granddaughter Millie; several step great-grandchildren; his sisters: Lillian Shepherd and her family, Donna Callum and her family; several nieces and nephews. Besides his parents, Francis was also predeceased by his son Gailand; daughter-in-law Nancy Wright; brothers: Richard and Wayne.
Francis grew up on Grand Manan Island, where like most young boys he spent his youth involved in fishing. He fished with his father on several vessels, most notably the Lady Noreen. It was built in Vancouver, BC in 1965 and he and his father sailed it back to Grand Manan through the Panama Canal. In the 1970s he decided to take a break from fishing and moved to Lower Millstream, briefly farming, working for Maritime Sod, and driving truck for Nelson Monuments. As a Master Mariner, he returned to his love of the water as Captain of the J L Hart, a marine research vessel out of the St Andrews Biological Station. He retired in Millstream, NB where he spent his days with his family.
The loss of his son Gailand by car accident in 1998 left a deep scar, but he treasured visits and calls from Brianna and Kaela to help heal.
He enjoyed multiple trips to Haida Gwaii to visit Beth. The memories made on these trips were priceless. He worked alongside Dwayne as a hunting guide for bear, deer and moose and loved spending time at the hunting camp.
He was always helpful- travelling to Kent's home in Ontario and Noreen's in Nova Scotia, always willing to do little repairs or fix up jobs.
As the family grew with grandchildren, he loved watching Shane, Nathan and Tania play hockey and baseball, often travelling to away games to cheer them on. He treasured visits from Brianna and Kaela from Victoria, BC and Saxon and Hailey from Toronto, Ontario. His newest great granddaughter Millie joined the family in 2021 and he loved any time spent with her.
Francis loved dogs and had several labs over the years, that he loved to take for walks. He was also always willing to 'dog sit' for Noreen and Beth. He was a good friend and neighbour, always willing to lend a hand or share a story.
Francis loved hunting, fishing and the outdoors but his one true love was the family he and Iris created. We will forever miss him.
We would like to sincerely thank Dr. O'Brien and staff at the Saint John Regional Palliative care unit for the wonderful care of our beloved Francis.
Arrangements have been entrusted to Wallace Funeral Home, 34 Sunnyside Drive, Sussex, NB (506-433-1176) and will be held privately at this time. Interment will take place later in Thorburn Cemetery, Thorburn, NS.
Donations in memory of Francis may be made to the Thorburn Cemetery or to the charity of your choice. Personal condolences to the family and donations may be made through WallaceFuneralHome.com