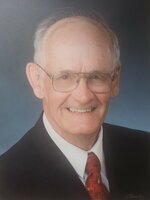 Dr. Laurence Donovan
It is with great sadness that we announce the passing of Dr. Laurence Alphonsus Donovan, at his home on February 18, 2023, after receiving compassionate hospice care from family and caregivers, after a brief illness, at the age of 93.
Larry was born on January 28. 1930, the son of the late Dr. Laurence Alphonsus Donovan and Winnifred (Barrett) Donovan, in Saint John, NB. He is survived by his six children: Mary Anne Donovan (Earl) of Toronto, ON, Margaret Donovan of Sussex, NB, Patrick (Kathleen) Donovan of Searsville, NB, Theresa (Paul) Geurten of London, ON, Paul (Margaret) Donovan of Uxbridge, ON. and Catherine (Ed) Winspear of London, ON.; eleven grandchildren: Katelyn (Steve) Lyons, Victoria Donovan, Andrew (Brianna) Donovan, Matthew Geurten, Kasia Donovan, John Donovan, Nicholas Donovan, Sarah Geurten, Mykayla Winspear, Luke Winspear and Maria Donovan; six great grandchildren: Sophia, Isabella, Amelia, Quinn, and Thomas Lyons, and Rori Donovan. Left to mourn also is his only sibling, brother John Donovan of Winona, Minnesota, USA and his partner Margaret, (predeceased by his wife Connie), as well as many nieces and nephews and cousins.
He was predeceased by his loving wife Elizabeth (Cusack) of 64 years on May 16, 2018 and all of her five siblings: John Cusack (Adrienne), Mary Cool (Larry), George (Sally) Cusack, Fr. Paul Cusack, and Genevieve Cusack.
Larry graduated from St. Vincent's Boys High School in 1947, received senior matriculation from St. FX University, and graduated from Ontario Veterinary College in Guelph, Ont. in 1952. He
practiced Large Animal Medicine (Farm) with the Department of Agriculture out of the Sussex. District Office from 1952-1990. He engaged in private dairy practice for 7 more years. He had many professional affiliations over the years, including: Past President of the New Brunswick Veterinary Association, on the nutrition committee of the American Association of Bovine Practitioners, Member of the Sussex & District School Board for 12 years and Chairman for 3 years, on the Board of the Kiwanis Nursing Home and the Sussex Hospital Foundation, Chairman for 14 years of the Region 2 Prostate Cancer Support Group (a pioneer in starting NB support groups in 1992). He was inducted into NB Dairy Hall of Fame in 2007 for his work in the Preventative Herd Health Program.
Larry was also very active in sports throughout his life. He was a pitcher in NB Senior Baseball, played hockey and was an avid golfer. He coached hockey and ball teams for both boys and girls. He enjoyed playing bridge with friends in Sussex for many years. He also loved to watch the Toronto Blue Jays.
He was very involved in the St. Francis Xavier Catholic Church as a parishioner and Eucharistic minister for over 50 years. His children. grandchildren and great grandchildren will remember him as a loving person in their lives, always interested and participating in all of their various activities. He took immense pride in their accomplishments. He was a great teacher and took his children out on many farm visits where they could learn and understand what he did for a living. Of course, a delight was when he took them for lunch at the Hampton Diner! Golf was a real family event; from games at the Sussex Golf & Curling Club, to trips around NB and PEI. Fundy Park was a special place for the family, from trailer camping, golfing, and ice-cream/sticky buns in Alma. He enjoyed day trips to St. Martins for fish chowder and drives with family around the countryside, stopping to visit familiar farms.
The family would like to thank Dr. O'Neill, the Extra Mural Team, Nina Smith and Pat McGovern (Larry's regular caregivers), and the staff at PharmaChoice for their dedicated and compassionate care.
Arrangements have been entrusted to the care of Wallace Funeral Home, 34 Sunnyside Dr., Sussex, from where visitation will be held on Thursday, February 23, from 2 -4 pm and 6-8 pm. A funeral Mass will be held on Friday, February 24, 2023 at 11 am at St. Francis Xavier Church, 114 Church Avenue, Sussex, NB. A reception will follow at the church hall. A private family interment will take place at St. Joseph's Catholic Cemetery.
Donations may be made in memory of Larry to the Alzheimer's Society, Sussex Extra Mural or to the charity of the donor's choice. Condolences to the family and donations may be made through WallaceFuneralHome.com