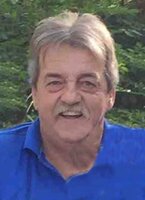 Roger Malcolm Mason
Mr. Roger Malcolm Mason was born in Sussex on September 24, 1959. He was the son of the late Donald and Anna (Miller) Mason
Roger was first and foremost a family man. He cherished his time spent with his family. He was never at a loss for words and will always be remembered as a joker with a quick wit. He was a give the shirt off his back kind of man, he would do anything for anyone and always thought of others.
He loved the outdoors and especially loved to hunt, and his time spent at the camp in Millstream. He loved to stay busy, whether it was playing cards or pool, watching Little House on The Prairie or his beloved Maple Leafs or time spent at the legion or coffee with friends; he was always on the go.
He will live on in the hearts of his daughter, Andrea Mason and Dylan McEwen of Sussex; his son, Lucas Mason of Sussex; his grandchildren: Taylor and her boyfriend Mitchell, Tori and her boyfriend Devin and Teegan "Angel"; his siblings: Robert, Cecil and his wife Sharon, Loretta and her partner Stephen, Floyd and his wife Evelyn, Russell and his wife Marie, Oscar and his wife Donna, Lawrence and his wife Wannetta, Donna and her husband Mike, Janet, Gail and her husband Doug, Peter and his wife Pam, Wanda and her husband Danny, Randy and his partner Kathy, Bonnie and her husband Garnett and Stanley and his partner Anna; his special friends: Sheldon Wood, Alwin Hayes, Mike Hebert and Dave Gallant; his caregiver, Lorraine Cooke and his special nurses: Tamara Marr and her husband Cory and their children Will and Meredith, Flossie O'Donnell and Lydia Elliott; as well as several nieces and nephews.
Roger Malcolm Mason of Sussex passed away at the Sussex Health Centre on March 1, 2023 at the age of 63.
Along with his parents, he is predeceased by his brothers: Thomas and Anthony and his sisters: Luella, Laverne and Mona.
Arrangements have been entrusted to the care of Wallace Funeral Home, 34 Sunnyside Dr., Sussex, from where visitation will be held on Sunday, March 5, from 1-3 and 6-8pm. A Mass of Christian Burial will be held from St. Francis Xavier Roman Catholic Church on Monday, March 6, 2023 at 11:00am.
Donations may be made in memory of Roger may be made to the Living Memorial or the Sussex Extra Mural. Condolences to the family and donations may be made through WallaceFuneralHome.com
The family would like to express their deepest thanks to Sussex Health Centre Dialysis Unit, The Sussex Extra Mural, his home care worker and nurses for all their kindness, care and compassion over the years, it will never be forgotten.