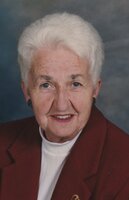 Margaret Tait
It is with great sadness that the family of Margaret Isobel Tait announces her passing, which occurred on April 24, 2023, at Moncton City Hospital. Born in Penobsquis, NB, on January 26, 1937, she was the daughter of the Late Murdo and Mary (Chestnut) MacLennan.
Margaret was so proud to live independently in the farmhouse, not only was she able to care for herself but her family and neighbours as well. She loved to do for others; especially enjoying Danny's company at meal time. Her kids were so grateful for having her loving and doting nature all these years. As a busy and very capable farm wife and Mom! She always made sure they had that one overnight summer trip, As a very proud Grammy, she was so interested in her grandchildren and the great-grandchildren loved their "visits to the farm", and knew where she kept the treats!
She walked twice to the pond everyday and even after her knee replacement at 80 – she didn't let that slow her down. Margaret loved to read and loved to keep caught up on the news, whether it was on the TV or at Tim Horton's and she always looked forward to her coffee visits with her Tuesday Girls.
She had a wonderful sense of humor, a positive attitude and was a sweetheart to everyone she met, right to the end. She held each of her friendships dear to her heart and will be deeply missed by all those whose lives she touched.
Margaret is survived by her children: Nancy (Mike) Pearson of Chelton, PEI, Janice Tait of Stratford, PEI, and Danny Tait of Penobsquis, NB; her grandchildren: Matthew Pearson (Stephanie), Ben Pearson (Alannah), Erika Kubik (Marc), Andrew Kubik (Nicole) and her great-grand-children, Maisie and Milo Pearson, Christopher and Casey Pearson, Miley and Connor Kubik, and Dominic; and her sister-in-law, Vivian MacLennan. Margaret is also survived by many nieces and nephews.
Along with her parents, Margaret was predeceased by her loving husband, Murray, and her brothers, Don and George MacLennan.
Arrangements have been entrusted to Wallace Funeral Home, 34 Sunnyside Dr. Sussex, NB (506-433-1176). A graveside service will take place on Sunday, April 30 at 5pm at the Pioneer Cemetery, Penobsquis, NB followed by a time of fellowship with the family at the Timberland Restaurant. All Are Welcome.
Donations in memory of Margaret may be made to The Heart & Stroke Foundation, The Canadian Red Cross, or a charity of the donor's choice. Personal condolences to the family and donations may be made through wallacefuneralhome.com.