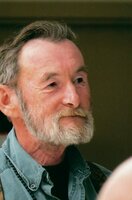 Lenny O'Donnell
Mr. Leonard Cecil O'Donnell was born in Sussex, NB on March 18, 1951; he was the son of the late Charles "Buzzy" and Lillian (Doyle) O'Donnell.
He was a hard-working man who retired as a mechanic for Sussex Truck Sale and Service. He loved the outdoors: hunting, fishing and four wheeling and he was a proud life member and past President of the Royal Canadian Legion Branch #20, as well as the 8th Hussars Association.
Lenny had a heart of gold; a quick wit, contagious laugh and beaming smile – he would give the shirt off his back to anyone in need and loved without exception. He will be deeply missed by all those whose lives he touched.
He will live on in the hearts of his loving wife, Sandra "Sandy"; his daughters: Evelyn "Penny" Bower and April Goddard and her husband Dion of Waterford; two brothers: Bryant and his wife Kathy of Picadilly and Bill and his wife Barb of Sussex; his grandchildren: Frankie Iannuzzi, Vincent Iannuzzi, Alyssa Thordarson, Ryan Goddard and his wife Courtney, Renee Goddard (Adam), Brianna Bower and Matthew Bower; ten great grandchildren; as well as several nieces and nephews.
Mr. Leonard Cecil O'Donnell of Mechanic Lake passed away peacefully at his home with his family at his side on April 25, 2023 at the age of 72.
Along with his parents, Lenny was predeceased by his daughter, Pamela who passed away in 1991.
Arrangements have been entrusted to the compassionate care of Wallace Funeral Home, 34 Sunnyside Drive, Sussex, (506-433-1176) where visitation will be held on Friday, April 28, 2023 from 1-3 and 6-8pm.

The Royal Canadian Legion Sussex Branch #20 will hold a tribute from Wallace Community Chapel on Saturday, April 29, 2023 at 11:00am immediately followed by a Celebration of Len's life. The interment will take place in Evergreen Cemetery, Sussex, NB.
Donations may be made to Children's or a charity of the donor's choice. Condolences to the family and donations may be made through WallaceFuneralHome.com