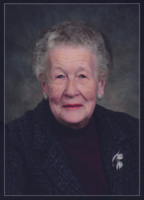 Margaret Walker-Greer
It is with great sadness that we announce the passing of a beloved wife, mother, grandmother, and great-grandmother, who lived a full and meaningful life. Margaret Walker-Greer, aged 90, passed away on May 11th, 2023 surrounded by her loving family.
Born in Lower Cove, Margaret Ellen Brown was the daughter of Emery and Ethel (McQuinn) Brown. She grew up on a busy farm and went on to attend teacher's college in Fredericton where she met lifelong friends Ardith Jones and Francis Corey. She graduated from Teacher's College and taught for a few years.
In 1954, she married George Walker, a dairy farmer from Ward's Creek, and they built a beautiful life together. They raised six children, and she poured her heart and soul into being a loving and supportive farm wife and mother. She cherished her family and worked tirelessly to ensure their happiness and wellbeing. The family and farm grew together over the years, and she kept track of the books for both.
Margaret was a lifelong member of the Holstein Canada and enjoyed several international farm tours with her husband George. She and George also travelled extensively with her brother Ken and wife Pauline. Through out Margaret's life she was very active and enjoyed a walk, curling, bowling, and square dancing. She also enjoyed socializing at ceramics and many community card games.
George passed away in 2005, leaving a profound impact on her heart. She adored being a grandmother and great-grandmother and cherished spending time with her family. We share many special memories from being together at the cottage on Cassidy Lake.
In 2011, Margaret found love once again and married Irvine Greer. They spent the last years of her life travelling and enjoying McGregor Brook.
In 2015, she cherished the trip to Banff when Walkerville Farms received the Master Breeder Award. She always enjoyed sharing her passion for dairy farming.
Margaret had a life membership with the United Church Women and was a charter and life member of the Ward's Creek Women's Institute.
Throughout her life, Margaret was a pillar of strength, always putting others before herself. Her legacy of love and dedication will continue to live on in the hearts of all who knew her.
Margaret Walker-Greer is survived by her loving husband, Irvine Greer; her five children: Heather (Sterling) Boulter, Beth (Richard) Cormier, Paul (Pat) Walker, Jim (Blanche) Walker and Sally (Paul) van de Wiel; fifteen grandchildren: Rhonda, Andrea (Paul), Matthew (Caroline), Emily (Nathan), Jeffrey (Jennifer), Marc (Cameron), David (Lauren), Aaron, George, Meaghan, Joel (Leanne), Emery (Manoela), Garret, Carter (Gabriella) and Rebecca and six great-grandchildren: Miriam, Bobby, Henry, Stella James and Emmy. Sister Joan (David) and Sister in laws Evelyn, Edna and Jean; as well as several nieces, nephews and Cousins.
In addition to her parents, Margaret is predeceased by her husband George, two infant sisters Ruth and Helen, and her son Robert, Brother Kenneth and sister-in-law Pauline.
Arrangements have been entrusted to the care of Wallace Funeral Home, 34 Sunnyside Dr., Sussex, from where visitation will be held on Wednesday, May 17th, 2023, from 3:00-7:00pm. A Celebration of Margaret's life will be held from St. Paul's United Church on Thursday, May 18th, 2023, at 11:00am with reception to follow.
In lieu of flowers, donations can be made in her memory to Robert Walker Memorial Scholarship Fund or Charity of your choice.
Thank you for all your love, Grammie