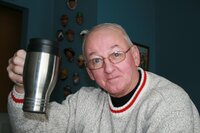 Tony Dunn
David Anthony Dunn (Tony), 80, of Sussex, New Brunswick, passed away peacefully on May 21st, 2023, on East Wing at the Sussex Health Centre, with his loving wife of 59 years, Phyllis, by his side.
Nothing meant more to Tony than his family. It all started when he married Phyllis, the love of his life, in 1963, who survives him. Tony is also survived by son David (Elaine) of Windsor, NS, Dennis (Eloise) of Markham, ON, Jason (Denise) of Sussex, NB, and daughter Alaina (Rob) of Sussex, NB. Tony, fondly known as Papa Tony, doted on all his thirteen grandchildren, Hannah, Julia, Aria, Mairi (Dave and Elaine), Sarah, Jesse (Dennis and Eloise), Brandon, Logan, Jay (Jason and Denise), Lilian, Abby, Claire, and Evelyn (Alaina and Rob). Undoubtedly, Papa loved his grandchildren, and nothing made him prouder than seeing their accomplishments.
Tony was the youngest and last remaining of sixteen children born to the Dan and Gladys Dunn (Parlee), on August 26, 1942, in Wards Creek, NB. Tony graduated from Sussex Regional High School High School in 1961. Just shy of his senior year, he was diagnosed with Type 1 Diabetes and was told he would not live to the age of 45. It was at that time in his life where Tony started his journey to conquer all the odds stacked against him. One of his greatest accomplishments came in 2010 when he received the 50th Year Diabetes Medal Award from Joslin Clinic of Boston Massachusetts. He was one of very few people in Canada to live with Type 1 Diabetes for that amount of time.
In his early years, Tony worked for White Rose in Moncton, NB, and he then moved to Ford Motor Company in Oakville, ON. He then moved the family back to New Brunswick in 1976 to settle onto the farming homestead in Wards Creek where he built a home for his family. In NB, Tony worked at Banner Homes and ultimately transitioned to a lengthy mining career starting with the construction of the mines with E.J. Cunningham, then onto Cementation, and retiring with PCS in 2003. In their retiring years, Tony and Phyllis spent time RV traveling and eventually spending their winters in Clearwater, FL until 2018. It was just recently that Tony and Phyllis left their home of 45 years in to downsize and live in Sussex. Tony was happy to see that through.
In 2018, Tony underwent extensive cardiac surgery because of his long-term Diabetes. Under the excellent care of Dr. Bewick and his associates at the New Brunswick Heart Centre, Tony was able to enjoy the lasting years of his life with his children and grandchildren at the centre of his heart.
Arrangements have been entrusted to the compassionate care of Wallace Funeral Home, 34 Sunnyside Drive, Sussex, (506-433-1176) from where Visitation will take place on Thursday, May 25 from 1-3 & 6-8pm. There will be a Celebration of Life Service held on Friday, May 26, 2023, at 1pm at Wallace Community Chapel, private burial to follow.
The family requests that people make donations to either the Canadian Diabetes Association, NB Division, or the Heart Function Clinic at the Saint John Regional Hospital, in lieu of sending flowers. Personal condolences to the family and donations may be made through wallacefuneralhome.com