506-433-1176 info@wallacefuneralhome.com Sussex NB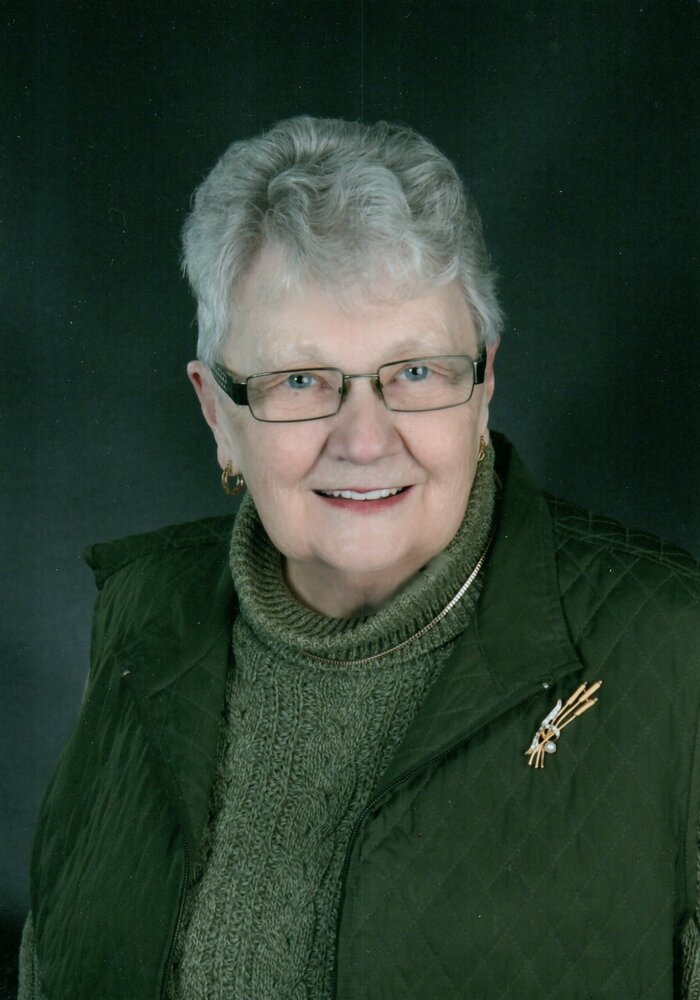 Visitation
2:00 pm - 4:00 pm
Saturday, April 1, 2023
Wallace Community Chapel
34 Sunnyside Drive
Sussex, New Brunswick, Canada
Visitation
6:00 pm - 8:00 pm
Saturday, April 1, 2023
Wallace Community Chapel
34 Sunnyside Drive
Sussex, New Brunswick, Canada
Mass of Christian Burial
11:00 am - 12:00 pm
Monday, April 3, 2023
St. Francis Xavier Roman Catholic Church
114 Church Ave.
Sussex, New Brunswick, Canada
(506)433-8402

Obituary of Dorie Whitters
Doris Elizabeth Whitters, loving wife, mother, grandmother, and great grandmother was called Home peacefully on March 24, 2023. She was 84 years old. She was loved and respected by so many, and she will live on in our hearts forever.
Dorie was born on December 22, 1938. She was the third child of Leo and Kathleen Cummings of Salt Springs, N.B. She was extremely close to all her siblings and thought the world of her parents and all the Cummings and Whitters clan. Her Christmas and summer trips "IN HOME" were talked and laughed about for months later.
Family was everything to this lady and she never missed an opportunity to be present at every gathering far and wide.
Sixty years ago on a sunny day, June 30, 1962, Dorie married Ed Whitters of Sussex. This was the beginning of the large family to follow. In 1963 they welcomed Stephen Edward (Jane) of Quispamsis. The following year, 1964, Anne Elizabeth (Mike) of Sussex made her appearance. William Frederick (Julie) of Sussex Corner made his debut on a cold December day in 1966. Not to be outdone, Robert Patrick (Susanne) arrived two years later in 1968. The house was full so that was that!

Dorie's beloved grandchildren are Kate, Gwen, Becca, Mark, Nick, Nathan, Sarah, Joe and Reese. In her later years, Dorie found great delight in her great-Grandchildren: Mila, Jackson, Aiden, Neve and Elliott. Holding HER babies in her arms brought untold joy to the very end.
Family was the core of Dorie's existence, but she also enjoyed being involved in her community. Her positive spirit, sense of humor and genuine caring for others shone brightly to all that she encountered. Many happy years were spent with the ladies and couples at Sussex Golf and Curling Club. Nobody enjoyed those Monday and Friday nights more. Dorie's prowess on and near the green is and
always will be Sussex legend. Many of these ladies and more were her constant companions at Coffee at Zellers and later at Smitty's. Current events as well as antics of grandchildren and loved ones were always on the agenda and everyone left with a smile and a tidbit to share at home. A better friend and confidant would be difficult to find. Thank you, ladies, for filling Mom's days with laughter and fellowship. She was a very social lady, and you always filled her cup!

Dorie was a faithful member of the Saint Francis Xavier Catholic church. She knew that we were all safe in God's love. She especially enjoyed the social aspects of the church community. Recently, she took part in the St. Patrick's Day celebrations at the church hall and talked about how much fun it was for days. Her Irish eyes were sparkling and she sang every song.

When the children were grown, Dorie and Ed left the camper at home and struck out on many adventures together. Their love of golf led them south to Myrtle Beach S.C. for several trips around Easter. In 2002, Dorie and Ed set out on a trip of a lifetime with Alice and Gib Branscombe across Canada. The men were the chauffeurs, and the ladies were in the back until they reached their destination each evening. Then the travellers relaxed and mapped out the rest of their trip. To mark Dave Murray's retirement, Dorie and Ed travelled with Dave and Paula on a cruise to Alaska. The girl's trip to Ireland was a dream come true. The musical aspect of the trip thrilled these four ladies each evening. Memories of these trips were relished on a regular basis with family and visitors alike.
Dorie's siblings were always by her side and in her heart. Her tight knit family includes Eileen Ryan, Shirley Keays (Dean), Lois Cummings, Marjorie Northrup, Sally Rupert (Bill), Susan McKay (Jack), Lawrence (Joan), Gordon (Theresa) and Hazen (Debbie). Dorie had many nieces and nephews that were important in her life.
Dorie was very proud to be part of her extended family, including Ed's siblings: Ann Sharp, Fred (Diane) Whitters, Therese Whitters of St. Stephen and cousin (little brother) Dave (Paula) Murray. Many other family connections were dear to her heart.
She is welcomed home by her parents: Leo and Kathleen Cummings; her mother and father-in-law: Elizabeth and Bert Whitters; her sister, Alice (Gib) Branscombe; her niece, Lorie Branscombe; her brothers-in-law: Jim Ryan, Dave Danford and Murray Northrup; her brothers and sisters-in-law: Mary (Ralph) Doyle, Murray Whitters, Theresa (Frank) Connors, John (Bonnie)Whitters, Frank Whitters, Bonnie (Nev) Huggard and Art Sharp.
We are very saddened that we will continue life without our best cheerleader and rock of stability. But we are also very grateful for a life well lived that has influenced so many with her positivity, grit and firm belief that Love conquers all! Rest high up on that Mountain Mom! We are secure in the belief that you will continue to guide us! Love you forever!
Arrangements have been entrusted to the compassionate care of Wallace Funeral Home, 34 Sunnyside Dr, Sussex, NB (506-433-1176) from where a visitation will take place on Saturday, April 1, 2023 from 2-4pm and 6-8pm. A Celebration of Dorie's life will take place from St. Francis Xavier Roman Catholic Church on Monday, April 3, 2023 at 11:00am. Burial will take place at a later date.
Donations in memory of Dorie may be made to the Stan Cassidy Foundation or to the organization of the donor's choice. Personal condolences to the family and donations may be made through wallacefuneralhome.com
Share Your Memory of
Dorie